Credits
Head of Fashion Department:
Niels Klavers
Curation:
Eduardo Léon | Avoidstreet
Production:
Py Tswang Jin
Show Directors:
Bas Andrea
and
Nathalie Haelermans | House of Orange
Light Design:
Studio Prokop
in technical collaboration with
JUR
Sound Design:
Fabian Reichle
Show Video:
Lonneke van der Palen
and
Giovanni Salice
Show Photography:
Sanne Peper
Graphic Design and Website:
Dongseok Min
,
Karl-Emil Bengtson
,
Theodora Jacobs
and
Wooryun Song
Fundraising:
Beatrice Puijk
Research Fellows:
Mika Perlmutter
and
Mo Veld
PR & Communication:
Jan Schoon
,
Martijn den Boer i.c.w. Public Rietveld
and
Mo Veld
Food & Beverages:
Daily Dog
Crew Catering:
Oh My Guts
GERRIT RIETVELD ACADEMIE FASHION SHOW 2021 is made possible with the generous support of Keep an Eye Foundation and Meester Koetsier Foundation.
Special thanks to the Executive Board of Gerrit Rietveld Academie, Pre-Reserved, tutors of the Fashion department (Ernst van der Hoeven, Ferdinand Schmeits, Mo Veld, Mika Perlmutter, Oscar Raaijmakers, Philipp Schueller and Riette Wanders), the Graphic Design department (Bart de Baets, Dongseok Min, Karl-Emil Bengtson, Theodora Jacobs and Wooryun Song), Fashion Workshop (Sonja Kip), Textile Workshop (Ea Polman, Berber Soepboer, Nicky den Breejen, Sanne Bax), Public Rietveld, GRA Audio Visual Services, Anouk Beckers, Anouk van Klaveren, Comfort Ball, Emirhan Akin, Hendrickje Schimmel, Lenn Cox, Ninke Bloemberg, Rita Ouedraogo, Rolien Zonneveld, Romy Day Winkle, Sandra Kassenaar, Tabitha Swanson, Taka Taka, Ting Gong, Tracian Meikle and many more.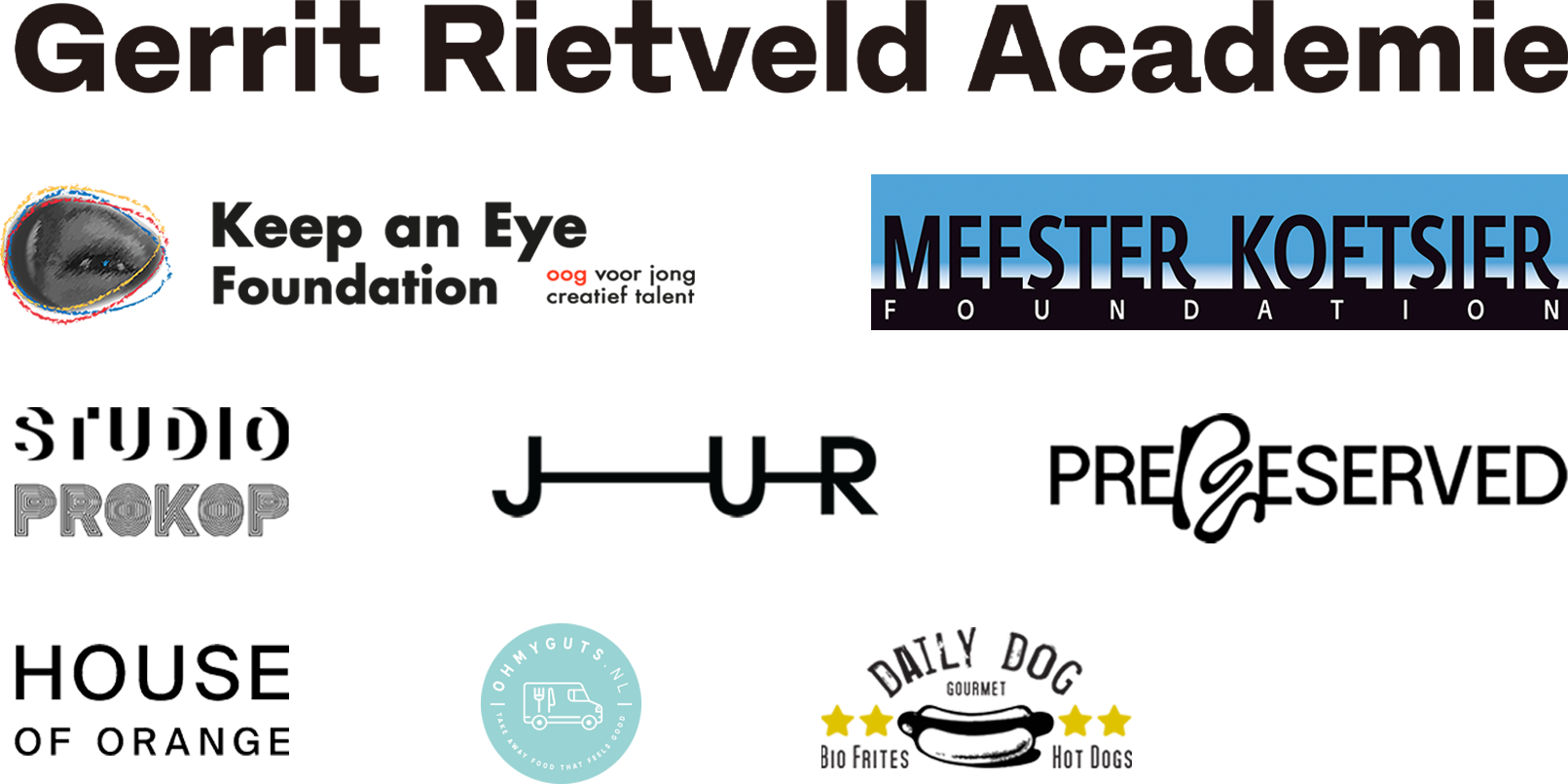 Colophon
This website is made for the GERRIT RIETVELD ACADEMIE FASHION SHOW 2021
Text:
Mo Veld
Graphic design:
Dongseok Min
,
Karl-Emil Bengtson
,
Theodora Jacobs
and
Wooryun Song
Coördinated and coached by:
Bart de Baets
,
Eduardo Leon
,
Py Tswang Jin
and
Public Rietveld